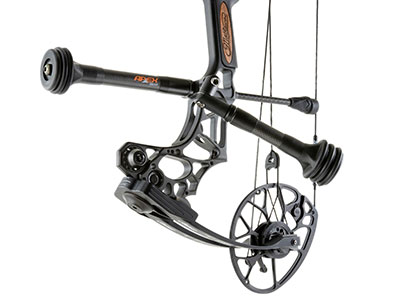 The new END•GAME™ Dual Stabilizer Kit from APEX GEAR includes two END•GAME stabilizers and the OUTPOST™ dual stabilizer mount. Inspired by target archery, this system also provides better balance and improved performance for any bowhunting setup.

The popular OUTPOST mount provides a versatile platform with dual mounting holes, full 360º tilt and pan, and an ambidextrous design. The mount features no-slip joints with interlocking teeth for a solid hold and laser-engraved angular markings for absolute accuracy and consistency.
The kit includes one 8-inch and one 6-inch END•GAME stabilizer. These popular stabilizers are engineered for today's performance hunting bows and constructed from a strong and lightweight carbonfiber tube. Each stabilizer includes a set of adjustable weights and a set of colored dampening rings, which provide a personal look while absorbing noise and vibration.
"We have previously sold each of these products individually," said Pliny Gale, Apex Gear Marketing Manager, "but as dual stabilizers become increasingly popular on hunting bows, we wanted to make it more convenient by providing everything bundled together at a great price."

OUTPOST END•GAME Stabilizer Kit Features:
• Balance bow by adding rear stabilizer at any angle
• 8-inch and 6-Inch END•GAME Stabilizers included
• Ambidextrous design for left- or right-side offset
• All-metal construction dual stabilizer mount with matte black finish
• No-slip joints with interlocking teeth
• Corrects bow tilt and roll
• Laser-engraved angular markings
• Fits most modern performance bows
• Model: AG817B
• MSRP: $141.99

About Apex Gear™
Apex Gear was created with one idea in mind – bringing quality products to passionate bowhunters. Apex Gear
celebrates a history of providing original equipment to the most demanding bow manufacturers. This same
technology and quality is available in pro shops and retailers nationwide. Accommodating a wide variety of hunting
styles, Apex Gear products are purpose built for practicality, accuracy, and reliability in the field. Apex Gear products
are designed in Richardson, Texas to meet the needs of modern bowhunters. Apex Gear – Performance Driven.
www.apex-gear.com