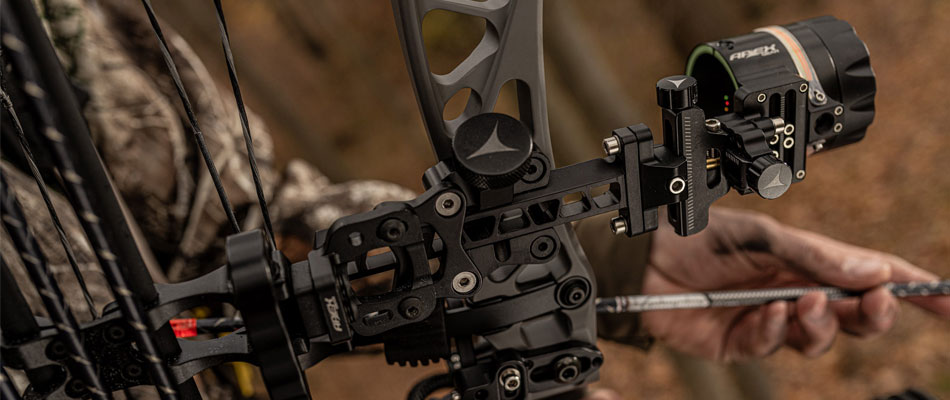 For 2021, a new multi-pin bow sight joins the Apex Gear line of performance driven bowhunting accessories. Designed for hunters seeking a high-quality sight at a great price, the new MAGNITUDE™ series combines several popular features with new engineering and design for a modern look and increased ruggedness in the field.
CNC-machined from aircraft-grade aluminum, MAGNITUDE is an ambidextrous 5-pin sight that is available with a detachable dovetail mounting bracket or fixed mounting bracket design. Both attachment systems feature multiple mounting locations and a wide adjustment range. The MAGNITUDE delivers consistent accuracy and easy tuning with an adjustable 2nd and 3rd axis level and micro-adjustable windage and elevation controls. The 2 in. aperture boasts a new glowing shooter's ring design with vertical and horizontal gaps that improves peep alignment in bright daylight and in low light "dawn and dusk" hunting scenarios.
"The MAGNITUDE is loosely based on the popular ATTITUDE series of sights," said Pliny Gale, Apex Gear Marketing Manager, "keeping the best features, adding new design elements, and making the whole platform even more rugged for those backcounty hunts that can be tough on gear". Apex Gear sights have always used bright fiber-optic pins; the MAGNITUDE aperture brings the fiber-wrap farther forward for increased light exposure when shooting from cover (such as a ground blind). All magnitude sight models utilize the proven PRO•BRITE™ pin design that increases brightness without crowding the sight picture and include the REVOLVE™ rotary LED sight light (a $20 value) for increased illumination. A machined anti-reflective texture inside of the sight housing and an included removable aluminum sunshade significantly reduce glare when shooting in harsh lighting conditions.
MAGNITUDE bow sights are now shipping to distributors and dealers nationwide, ready for 2021 new bow builds and consumers looking to upgrade their existing bow sight.

MAGNITUDE Archery Sight Features:
PRO•BRITE™ pin design increases brightness without crowding the sight picture
Micro-adjustable windage and elevation
Anti-reflective texture inside aperture and sunshade reduces glare
Adjustable 2nd and 3rd axis level
Aperture has 2-inch inside diameter
New shooter's ring design for even better peep alignment
Precision machined aluminum bracket for maximum strength and durability
REVOLVE™ rotary sight light included
Stainless steel hardware
Removeable machined aluminum sunshade included
For left and right-handed archers
Quiver mounting adapter included (detachable model, Quiver attaches directly to sight on the standard model)
Standard Mount model (AG4405B) MSRP:119.99
Detachable Dovetail Mount model (AG4405BD)MSRP: 139.99